The Sygnis SA team consists of outstanding specialists in many fields of science and technology. Within the company, we place great emphasis on interdepartmental cooperation and the creation of interdisciplinary, mobile project teams. We function as additive technology has taught us – taking coordinated, distributed actions, constantly analyzing and optimizing every next step.
Below are profiles of key executives, managers and technology leaders at Sygnis SA.
CEO and Chairman of the Board of Sygnis SA, Chairman of the Board of Zmorph SA
Graduate of the Faculty of Physics at the University of Warsaw with a specialization in Econophysics. He has been active in the 3D printing industry for more than nine years and runs one of the longest-operating Polish companies in this area – Sygnis SA. He is in charge of managing and representing the Company, as well as coordinating and supervising the Human Resources Department and the Sales Department.
He works closely with scientists and science popularizers, promoting pro-science attitudes and implementing innovative solutions to research institutes and educational institutions. 3D printing expert with many years of experience. He is one of the founders of the Economic Chamber of Industry 4.0 and co-creator of the Code of Ethics of the Polish 3D Printing Industry. He also acts as an expert-employer of the Polish Accreditation Committee, as well as a member of the Scientific Council of the Center for Social and Economic Research (CASE).
An experienced speaker and qualified trainer. He has spoken at, among others: XXXI Economic Forum in Karpacz, "Regiosummit" – Local Government and Economic Diplomacy Summit 2019 organized by the Ministry of Entrepreneurship and Technology, the International Symposium on Intellectual Property in Industry and Business (13th edition) organized by the Polish Patent Office, as well as the 2nd Maintenance Manager Congress and innoSHARE 2018.
Sygnis SA under his aegis received, among others, the Book of Lists 2019/2020 "Pioneer in New Technologies" Special Award, the EuroSymbol of Innovation 2019, a nomination for the Polish Intelligent Development Award 2019, a nomination for the Puls Biznesu Innovation Architects 2018, and a very good rating in the Innovation Health Check conducted by Enterprise Europe Network. Sygnis was also ranked in the Deloitte Technology Fast50 Central Europe 2021.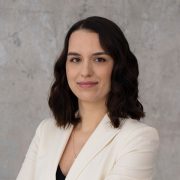 CSO and Vice President of the Management Board of Sygnis SA
Olga Czerwińska holds a PhD in physics from the University of Warsaw and has been part of Sygnis SA's management team since 2018.
She has many years of experience in conducting scientific research, educating students and organizing scientific conferences of national and international scope. She is an author of scientific articles published in international journals and an experienced speaker with dozens of conference presentations to her credit.
Since 2018, as Chief Scientific Officer, she has been responsible for Sygnis' cooperation with the scientific community and the Company's scientific and research development strategy. She manages R&D projects from the formal side, including obtaining and accounting for EU funds, as well as commercialization of R&D results.
Olga Czerwińska was one of the founders of the Warsaw branch of Women in 3D Printing, and is currently involved in mentoring activities at Innovations Hub and the Network of Entrepreneurial Women.
CFO and Vice President of the Management Board of Sygnis SA
Financial expert with many years of experience. Graduate of the University of Finance and Management. For more than ten years she has gained experience in positions in controlling and financial audit departments. The skills she acquired go back to the corporate structures of the Colgate – Palmolive company, where the international environment opened the door to further development and brought her many ideas for herself. Working in the Accounting Department developed meticulousness and attention to detail, and taught attentiveness in reading the most relevant financial information.
She took the next steps in her career at companies such as Concare IT and Good Looking Studio. The experience she gained allowed her to turn her career around and focus on further activities together with Sygnis SA.
Joanna Danaj controls and optimizes costs, deals with reliable evaluation of investment projects or conducting economic and financial analyses at the highest level. The experience she has gained, as well as her characteristic personal qualities and resistance to stress, allow her to master any of the crisis situations.
Marcin Adamczyk, Eng., PhD
Design engineer with many years of design and leadership experience. Graduate of the Faculty of Mechatronics at Warsaw University of Technology with a specialization in Precision Mechanics. In 2019, he defended his PhD at the Institute of Micromechanics and Photonics.
For more than 10 years, he has been involved in numerous R&D projects conducted both at Warsaw University of Technology and outside. To his credit, he has worked with Barlinek, Mitsubishi Electric, KSM Vision, PhiBox, SmartTracking, Mnemosis, OVE, CLKP.
As a research and teaching assistant professor, he teaches theoretical and design classes in precision device design, optomechanics, and mechatronic systems. He is the author of 11 JCR-listed publications. He gained experience as a designer and leader of technical teams by participating in more than 20 R&D projects. Among others, he was responsible for: the design and development of a hierarchical system for 3D measurement of a crime scene, the design and development of numerous 3D scanners using the method of projection with structured lighting, the design and supervision of the development of two production lines for automating the process of removing cavities and filling the face layer of floorboards. Marcin Adamczyk has extensive knowledge of rapid prototyping, especially in terms of using 3D printers.
Graduate of the Faculty of Design at the Academy of Fine Arts in Warsaw and Nanostructures Engineering at the Faculty of Physics and Chemistry, University of Warsaw. Winner of numerous Polish and international design competitions. He created and leads Sygnis' Design Department, which carries out work in the field of industrial design, 3D modeling, visual communication, 2D design and UX/UI.
At Sygnis SA since 2014.
He has been working at Sygnis since 2017. He is responsible for managing a manufacturing team that also conducts 3D scans and machine maintenance, as well as specialized hardware training. He manages the implementation of projects using a variety of manufacturing technologies. He has several hundred successful 3D printing implementations to companies and institutions to his credit.
Business Development & Commercial Director
Graduate of the Faculty of Management at the University of Warsaw. Associated with Sygnis since 2021. He is responsible for sales and marketing teams, creating sales strategies within all sales channels of the company. He manages the distribution network, taking care of the global growth of the Sygnis brand. He creates new business opportunities by successfully implementing commercial objectives.
Graduate of the Academy of Economics and Humanities in Warsaw, majoring in Management. At Sygnis SA since 2020. She gained experience in companies such as Bank Handlowy SA and Mazowiecki Regionalny Fundusz Pożyczkowy sp. z o.o. At Sygnis SA, she is responsible for managing a team responsible for trade and retail, public procurement and supplies for the education sector.
PR & Communication Specialist
Graduate of the Institute of Sociology and the Institute of Applied Linguistics at the University of Warsaw. Skilled marketing manager, copywriter, investor relations and public relations specialist. Before joining Sygnis SA in 2018, he gained experience at Eska Info, Macmillan Education, the Center for Contemporary Art Ujazdowski Castle and Adverty AB, among others.
Graduate of the Warsaw University of Life Sciences, majoring in Management. Qualified coordinator in broadly defined logistics operations and activities. Associated with Sygnis SA since 2022. He manages the logistics team, supervises the smooth operation of warehouse spaces, takes care of the timeliness of orders and provides support to sales representatives.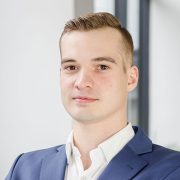 A graduate of the University of Southampton and the National University of Singapore. He gained experience at Rolls-Royce Power Systems working on a number of R&D projects. Some of the most interesting ones include, for example, work on sensors and control system for a hybrid vertical take-off and landing aircraft or optimization of "power-to-X" networks based on MTU hydrogen engines. At Sygnis SA, he is responsible for the development and commercialization of 3D printing technology from glass to automate the production of nano-structured fiber optic preforms. On a daily basis, he is active in start-up environments and is, among other things, a graduate of the "School of Pioneers" program organized by PFR.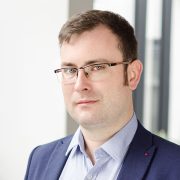 Kamil Kłosek joined Sygnis SA in 2021 as one of the engineers in the R&D team, where he first took charge of the PLUMBO project, a new technology for 3D printing with low-melting metals. In 2022, he became the technology leader of the DEPO project. Since then, he has led the DEPO project in technology development. He has many years of scientific experience in epitaxial methods confirmed by numerous publications and cooperation with international centers. He is a specialist in materials science.
SYGPAST and MATURO projects leader
Design engineer with experience in projects in many fields including aviation, aerospace, medicine, education and additive manufacturing technologies. She graduated from the Mechanical Department of Power and Aeronautics at the Warsaw University of Technology. At Sygnis SA, she is involved in the design, coordination and construction stages of several R&D projects, including SYGPAST and MATURO.
He was educated in mechatronics at Gdansk University of Technology and the University of Southampton. He worked in Poland for SIM Gdynia as a specialist in manufacturing and metal cutting technologies. In the United Kingdom, he gained experience as a project leader under the Knowledge Transfer Partnership (KTP) program, after which he gained employment at Jaguar Land Rover, where he led a team of engineers in the design of internal combustion engine components. At Sygnis SA, he is involved in topics related to bioprinting, Direct Ink Writing and other R&D projects.